Home Safe Home: Michael and Annie Clarke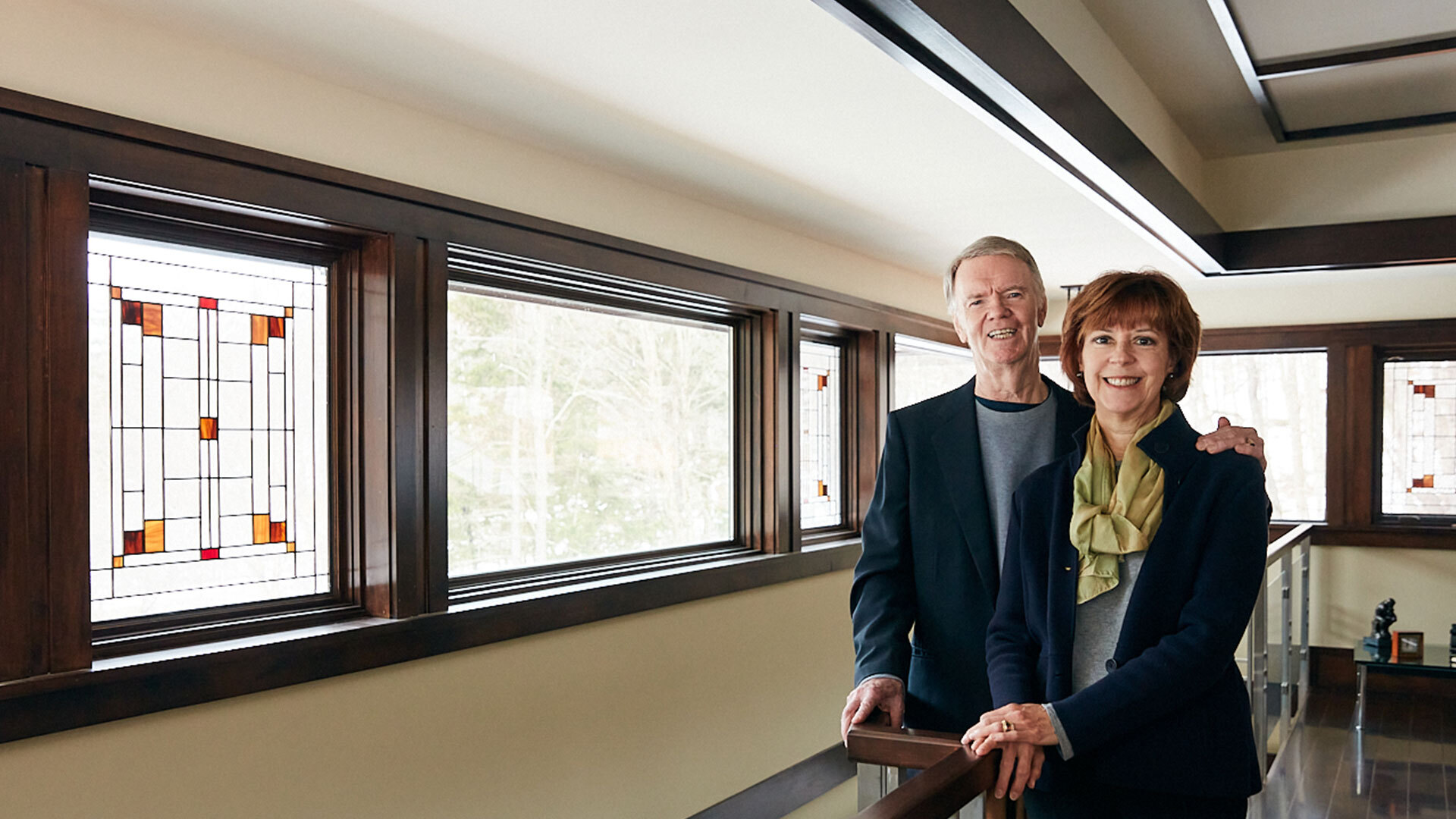 Michael Clarke is a prudent man. He is a retired naval intelligence officer, risk management professional and co-founder of a commercial insurance agency.
He and his wife Annie mind their belongings with the utmost care. But, sometimes, all it takes is an unlucky moment for a loss to occur.
One day in 2020, the band on Michael's Rolex Sea-Dweller broke, and the timepiece slipped through the tiny gap between the door and the elevator that he was boarding, falling 16 floors to the basement. While the watch was recovered by building maintenance staff, it was broken beyond repair. "PURE was just amazing to work with," says Michael.
This story isn't about chance or Michael's timepiece, however; it's about care, prevention, thoughtful decisions and the couple's dream home.
This is a carousel with slides. Use Next and Previous buttons to navigate, or jump to a slide with the slide pagination dots.
A look inside the Clarkes' Frank Lloyd Wright-inspired home.

A look inside the Clarkes' Frank Lloyd Wright-inspired home.

A look inside the Clarkes' Frank Lloyd Wright-inspired home.
"We joined PURE shortly after the house was completed, and it was the lesser-expensive option, so I was skeptical (which seems silly now), but I researched it, called a couple of my buddies in the industry, and they all said, 'It's a great company,'" says Michael. "Now I sleep well knowing I'm with PURE."
PURE works best when responsible homeowners, like Michael and Annie, come together to share risk. A more responsible membership means fewer claims, which helps keep premium costs down without sacrificing service.
Michael and Annie's dream home was built on a parcel of land in Vermont—three hours from their home in Hartford, CT—that the couple had purchased many years before. The project was intensely personal to Michael who was, after all, "building the house for Annie, the love of my life. I was in on every decision," he says. "There wasn't a line that was drawn on any scrap of paper without my involvement."
Michael has a passion for architecture and fine design, especially the work of Frank Lloyd Wright. And, as an insurance professional, his clients were all architects and engineers, so he was steeped in the business for decades.
What he achieved—with a small army of architects, designers, builders, artisans and suppliers—was a 9,325-square-foot, three-story, "Prairie Style" jewel. The home, which took five years to complete, was masterfully appointed with artisan-stained glass, a loft library, a pub, a gym, a staircase made of blue glass, a wine cellar, a seemingly endless deck and an enclosed porch suspended over a pond—all of which were a surprise for Annie.
While Michael focused on the architecture, Annie filled the space with custom furniture, fine linens and art. The house, lovingly nicknamed "Wright Way," has never suffered a loss. This is undoubtedly due in large part to the Clarkes' foresight and attention to risk management.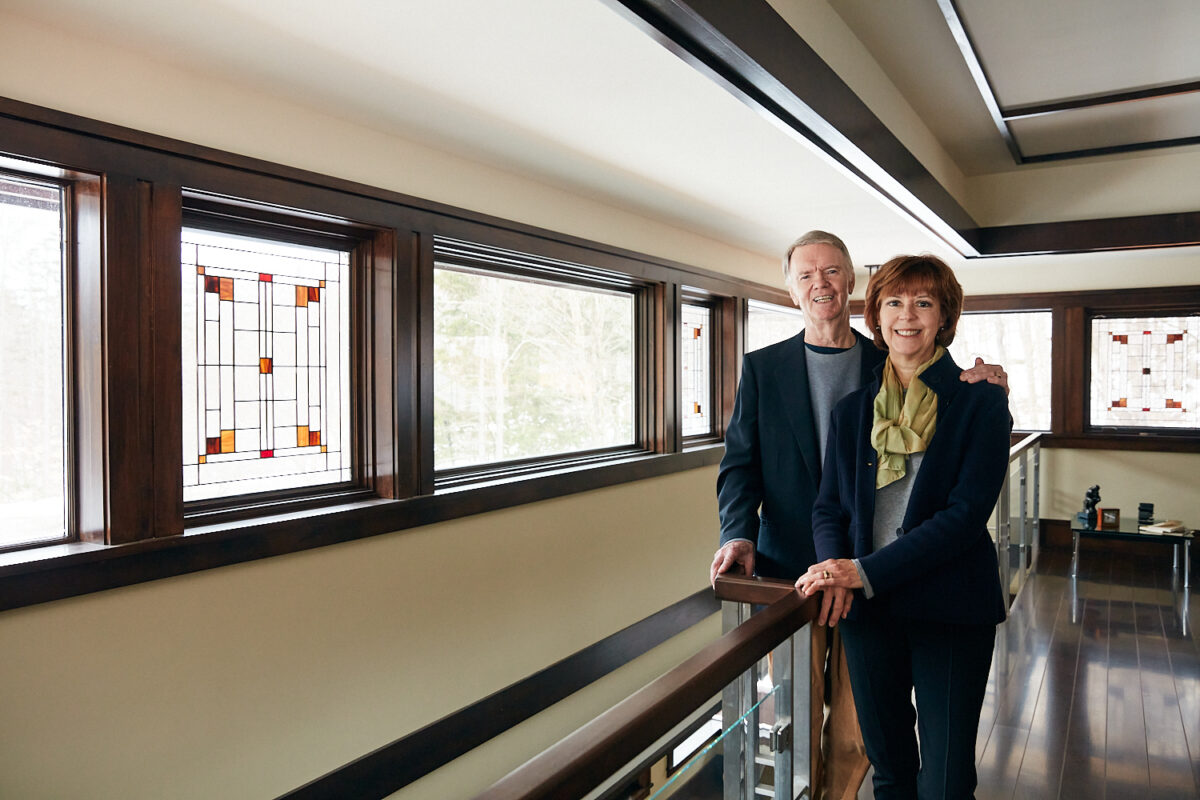 Despite Michael's devotion to design, he insisted on adhering to the highest standards of risk mitigation throughout construction. "Safety first, design second—but a very close second," he says. His original vision called for the house to be built beside a stream that ran along one edge of the property. But, after some deliberation, he decided instead to build in the middle of the property to mitigate the risk of flood. He took further precautions, such as installing a moisture barrier under the home's foundation to forestall moisture seepage and a hydrant that can pump water from the250,000-gallon pond in the event of a fire. Michael did such a good job risk-proofing the home that his PURE Risk Manager had no recommendations following the inspection. "Actually, he might have said, 'You have too many bottles of wine,'" Michael laughs.
Wright Way is far more than a vacation home to the couple. It has become a haven—a place where they rejuvenate, entertain friends and enjoy nature together. "We still wake up stunned every morning," says Michael. "We never get used to it."