High-End Protection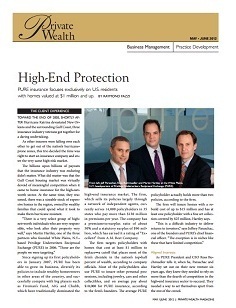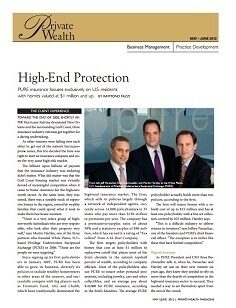 Private Wealth - 05/15/12
By Raymond Fazzi

Toward the end of 2005, shortly after Hurricane Katrina devastated New Orleans and the surrounding Gulf Coast, three insurance industry veterans got together for a daring undertaking.
As other insurers were falling over each other to get out of the nation's hurricane-prone zones, this trio decided the time was right to start an insurance company and enter the very same high-risk market.
The billions upon billions of payouts that the insurance industry was enduring didn't matter. What did matter was that the Gulf Coast housing market was virtually devoid of meaningful competition when it came to home insurance for the high-net-worth sector. At the same time, they reasoned, there was a sizeable stock of expensive homes in the region, owned by wealthy families that could spend what it took to make them hurricane resistant.
"There is a very select group of high-net-worth individuals who are very responsible, who look after their property very well," says Martin Hartley, one of the three partners who founded White Plains, N.Y.-based Privilege Underwriters Reciprocal Exchange (Pure) in 2006. "Those are the people we were targeting."
Since signing up its first policyholders in January 2007, Pure has been able to grow its business, diversify its policies to include wealthy homeowners in other areas of the country, and successfully compete with big players such as Fireman's Fund, AIG and Chubb, which have traditionally dominated the high-end insurance market. The firm, which sells its policies largely through a network of independent agents, currently serves 14,000 policyholders in 35 states who pay more than $130 million in premiums per year. The company has a premium-to-surplus ratio of about 50% and a statutory surplus of $96 million, which has earned it a rating of "Excellent" from A.M. Best Company.
To read the full article, visit the link or download the PDF below.