Protecting Andy Warhol From Flood, Fire and Quake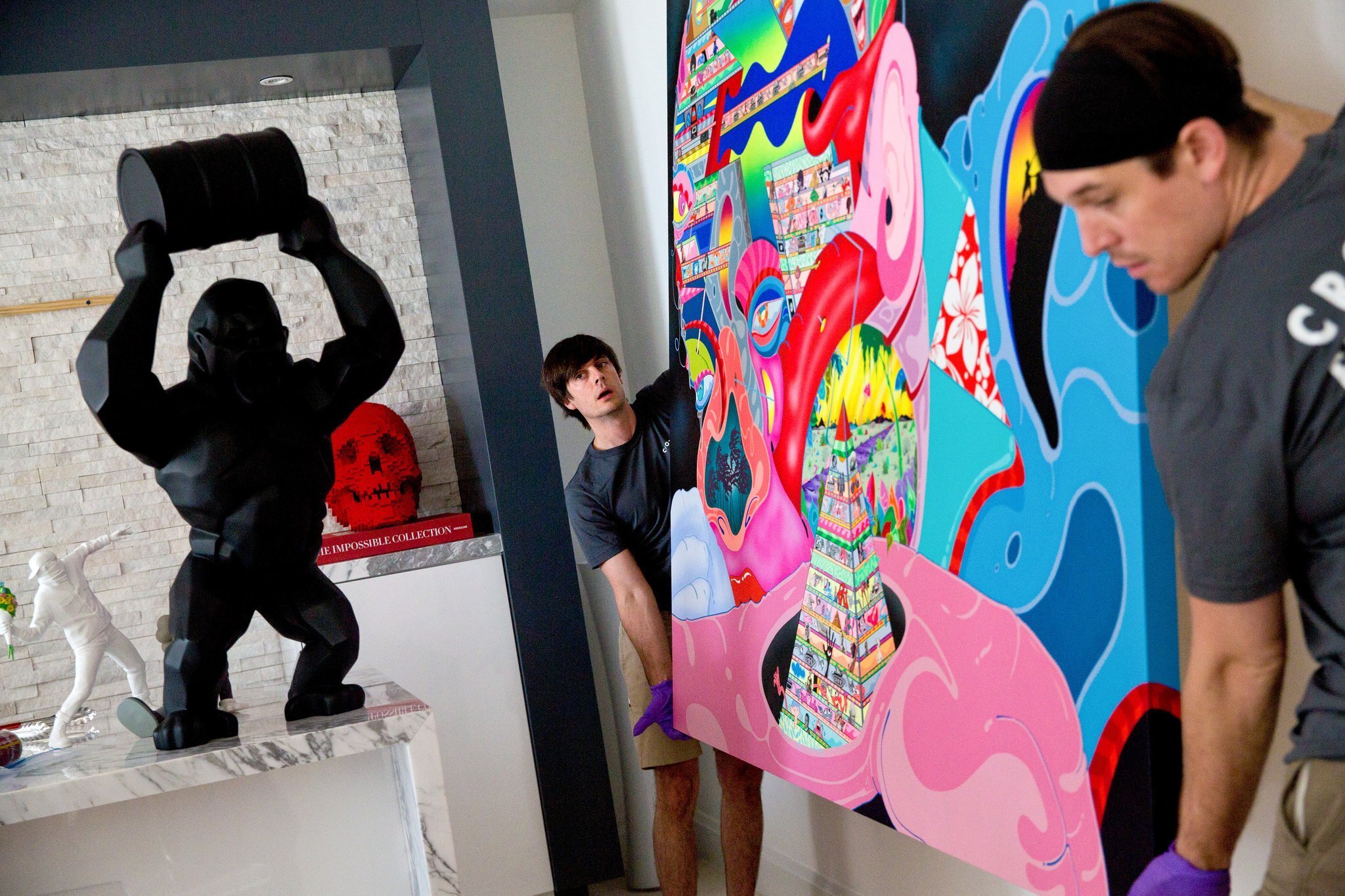 New York Times — 9.15.2017
By Paul Sullivan
People commonly pay insurance companies to secure their property against loss or damage. But for the affluent, insurance companies sometimes take matters into their own hands.
Believing that an ounce of prevention is worth a pound of cure, some insurers will send in specialists to prepare a home for disaster, for instance, while others will pay to move valuables out of harm's way.
Jeremy Alters, a personal injury lawyer in Miami, found out how far his insurer would go to protect his art collection when Hurricane Irma hit Florida last week. As the storm was gathering force in the Caribbean, he started to get nervous because it appeared that the hurricane was headed directly toward his beachfront home in Golden Beach, Fla.
So with help from family and friends, Mr. Alters began to move his collection — which includes works by Jeff Koons, Keith Haring and Andy Warhol — to the second floor, hoping to protect it from flooding caused by the storm surge he was anticipating.
In the end, the hurricane took a different path, but the wind ripped a hole in his roof and piled sand three feet high around his home.
When Mr. Alters called his insurer to file a claim, the company sent an art preservationist and a team of art movers to his home. The collection had survived the hurricane, but the hot, humid conditions posed a danger. Had he called sooner, the company told him, it would have moved the art out — at no charge — before the hurricane hit.
"I forgot that they said they'd help with the art during a storm," he said. "Now, I'm paying attention."
Insurance companies that cater to high-net-worth individuals — like AIG Private Client Group, Chubb, Cincinnati Insurance and Pure Insurance — operate at a level of service that would seem unfamiliar to people who have mass-market insurers. Property and casualty insurers often send tips to their policyholders ahead of potential natural disasters like wildfires in the west or hurricanes in the southeast, but insurers with affluent clients like to go a step further — even if it means intervening to protect the property themselves.
Such efforts come out of enlightened self-interest, for sure. The damage wrought by Hurricane Harvey is expected to cost more than $80 billion, and estimates to clean up Hurricane Irma in Florida are around $50 billion. With such enormous losses to be covered by the insurance industry, protecting multimillion-dollar homes — and collections of art, cars and even wine — before disaster strikes is far less expensive than paying to rebuild or replace them afterward.
Insurers entice their wealthy clients to safeguard their possessions through financial incentives — like adjustments to deductibles and premiums for making homes and collections safer ahead of time — but also by appealing to their love for what they have. A six-figure check to cover the loss of a beloved piece of art is cold comfort when the wall is bare.
Still, if these insurers prefer using carrots over sticks, they also don't mind delivering the carrot right to the client's doorstep.
"One of the challenges we have is giving advice," said Ross Buchmueller, chief executive of Pure, which provides coverage for Mr. Alters. "If I say, 'Before you go away, you should turn the water off in your house,' there are only so many people who are going to do that. You feel good about it, but you didn't change behavior."
So Pure and its competitors try to nudge their clients. For instance, Mr. Buchmueller said, one of the risks with older homes in earthquake-prone areas like California is that the gas line can be severed in a quake, risking a gas leak that can blow up the house. There are inexpensive seismic shut-off valves that are easy to install — save for the lack of time or desire the homeowner may have to install it.
Pure will address the situation for homeowners before it becomes a problem. "Our guy shows up with the hardware," Mr. Buchmueller said. "He'd schedule the appointment with the plumber, and he'd stay in your house until it's done. The difference of making sure it happens compares so much better than just giving advice."
Other services are available to protect multimillion-dollar homes. On the West Coast, for example, where wildfires are often hugely destructive, insurers offer some form of wildfire protection or remediation services.
Annmarie Camp, an executive vice president at Chubb Personal Risk Services, said one part of the company's wildfire service was to help clients clear brush from around the property as regular maintenance, but then be ready with sprinkler systems and other tools if a fire started. Chubb also scans for hot spots behind walls, which might indicate that a light switch could be a fire hazard.
AIG Private Client Group gets involved from the ground up with Smart Build, a complimentary risk-minimization service that is offered to clients building a house with a construction budget of $5 million or more.
Ray Celedinas, president and chief executive of the Celedinas Insurance Group in Palm Beach Gardens, Fla., said he had used the Smart Build service when he built his home in West Palm Beach. "Unlike the mainstream market, they're very proactive on the pre-loss and post-loss side," he said. "They wanted to make sure our home was built as sturdy as possible."
It withstood Hurricane Irma, he said, with only a few roof tiles damaged by a falling tree.
Boats were a particular concern when Irma threatened Florida. AIG advised its clients to get their boats out of the water and into secure, dry dock storage. But some boat owners were caught off guard. One owner in Clearwater was trying to find a place to store his yacht, but the boat storage facilities he knew were full. So he called AIG.
"We were able to find some land space to have the yacht pulled out ahead of the storm," said Stephen Poux, global head of risk management services and loss prevention at AIG Private Client Group, which provides coverage of up to $5,000 to help subsidize the cost of hauling a boat out of the water.
Mr. Poux said that AIG's yacht coverage was led by a former America's Cup sailor who uses his yachting contacts to help boat owners.
Other insurers also rely on the expertise of specialists to attract wealthy clients. Claire Marmion, an art preservationist who owns the Haven Art Group, has worked for several insurers.
Ms. Marmion was in Golden Beach to assess the damage to Mr. Alters's art collection. The artworks were still in good shape, but the hole in the roof was worrisome. Within two days, all the art was crated by professional art movers and taken to a climate-controlled storage facility.
In trying to cover every possibility, though, some services are created that are never needed. After heavy snowfalls in 2015, Pure put together a roof shoveling team because it did not want clients climbing on their roofs to clear the snow, and it did not want the snow staying there and pushing water into homes.
Mr. Buchmueller said the winters had not been as severe since the shoveling team was created. But that's the nature of good plans: They may never be used.
And that is the hope of Ms. Marmion, who has a plan for a six-foot-tall Koons sculpture that sits outside a home on Long Island. If a hurricane comes, she thinks the sculpture might be safer submerged in the owner's pool.
"I realized I could sink it in the swimming pool and cover the pool," she said. "Luckily, there hasn't been a hurricane there since I wrote that plan. But I do remember we had an amazing conversation about what the chlorine would do to the sculpture. Sometimes, you have to look for the lesser of two evils."
Correction: September 23, 2017 An article on Saturday about insurance companies that cater to high-net-worth individuals misstated the estimated cost of cleaning up after Hurricane Irma in Florida. It is $50 billion, not $50 million.