What does this mean for the PURE membership?
Below are some facts about the acquisition and how it will impact the PURE Membership.
1. There is no action required on your part as a result of this transaction.
Your coverage remains fully in-force as per the specific terms of your policy contract—provided you continue to pay your premiums as they are due.
The PURE team remains fully engaged to help you with claims, risk management, billing, or other service needs.
2. Privilege Underwriters Reciprocal Exchange (PURE), your insurance company, is not being acquired and PURE's member-owned reciprocal structure will remain unchanged.
The PURE Group of Insurance Companies has always had a hybrid structure with PURE, a member-owned reciprocal insurance exchange, supported by the investor-owned subsidiaries of Privilege Underwriters, Inc. (PUI). PUI subsidiaries serve as attorney-in-fact for PURE in exchange for a fee and provide capital support and flexibility to PURE to enhance its financial strength. Here is the current corporate organizational chart as presented in the 2018 Annual Report to Members: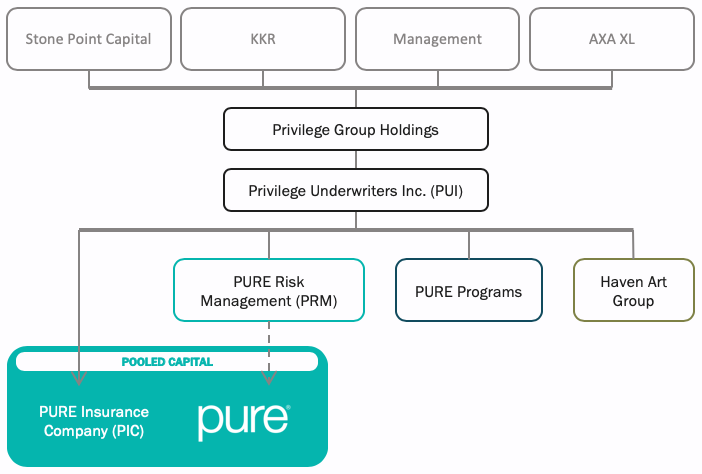 With the consummation of this transaction, Tokio Marine Holdings, Inc. and affiliates (Tokio Marine), will simply replace Stone Point Capital, KKR, AXA XL, and Management (collectively Privilege Group Holdings), the current owners of Privilege Underwriters, Inc., at the top of the chart. Upon closing, our corporate organization chart will be: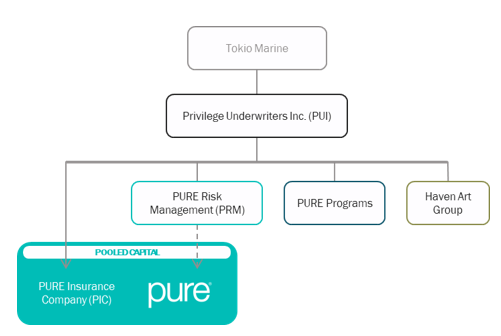 3. The plan is to remain the "same old PURE," but backed by Tokio Marine, one of the largest and most respected insurance organizations in the world.
PURE has attracted an enthusiastic membership by providing exceptional value and empathetic service to a select group of the most responsible and successful families. Furthermore, since our inception, we have built a track-record of effectively managing risk and capital, which has enabled us to achieve a financial strength rating of "A" (Excellent) from A.M. Best—among the highest ratings that A.M. Best provides.
Tokio Marine is one of the largest global insurers and operates in 45 countries and regions with over $33B in market cap. Tokio Marine is rated A++ "(Superior)" from A.M. Best—the single highest rating that A.M. Best provides. The backing of such an organization will enable PURE to continue to grow responsibly with even greater financial strength and capital flexibility. Shortly following the announcement of the transaction, A.M. Best placed the PURE Group's ratings "under review with positive implications."
4. This transaction will not impact your premium.
PURE's aim is, and has always been, to charge the "right" price for insurance, not the highest – this dynamic does not change with our new owners. That's not to say, however, that your policy premium won't change at renewal. We routinely adjust rates to ensure they accurately reflect our latest views of risk.
5. The way in which you work with your current independent insurance broker will not change.
6. The benefits and obligations of membership are unchanged, including Surplus Contributions and Subscriber Savings Accounts (SSAs).
In order to keep PURE's cost of capital low (which helps support lower premiums), members will continue to make Surplus Contributions for each of their first five years of membership. When surplus grows in the exchange, we expect to continue the practice of sharing a portion of that growth with the membership through allocations to SSAs. Learn more about SSAs at www.pureinsurance.com/ssa.
7. PURE's leadership and commitment to serve the membership are not changing.
The same management team that founded PURE 14 years ago and who built it into the company that it is today will remain in place and continue overseeing operations.
8. The Subscribers' Advisory Committee (SAC) remains intact and unchanged.
Learn more about the important role this group of PURE members play in making PURE an even better company at www.pureinsurance.com/sac.
9. PURE will continue to enhance its service offerings and grow the team in place to serve the membership.
There are no expectations for cost reduction, downsizing, or consolidation resulting from this transaction. PURE is always looking to add exceptional, service-oriented individuals to our team. If you're interested in learning more, visit www.pureinsurance.com/careers.
PURE has exciting plans to enhance our product and service offerings to the membership which it expects to announce in the coming weeks – stay tuned for more!