The Boat that John Built: John Burgess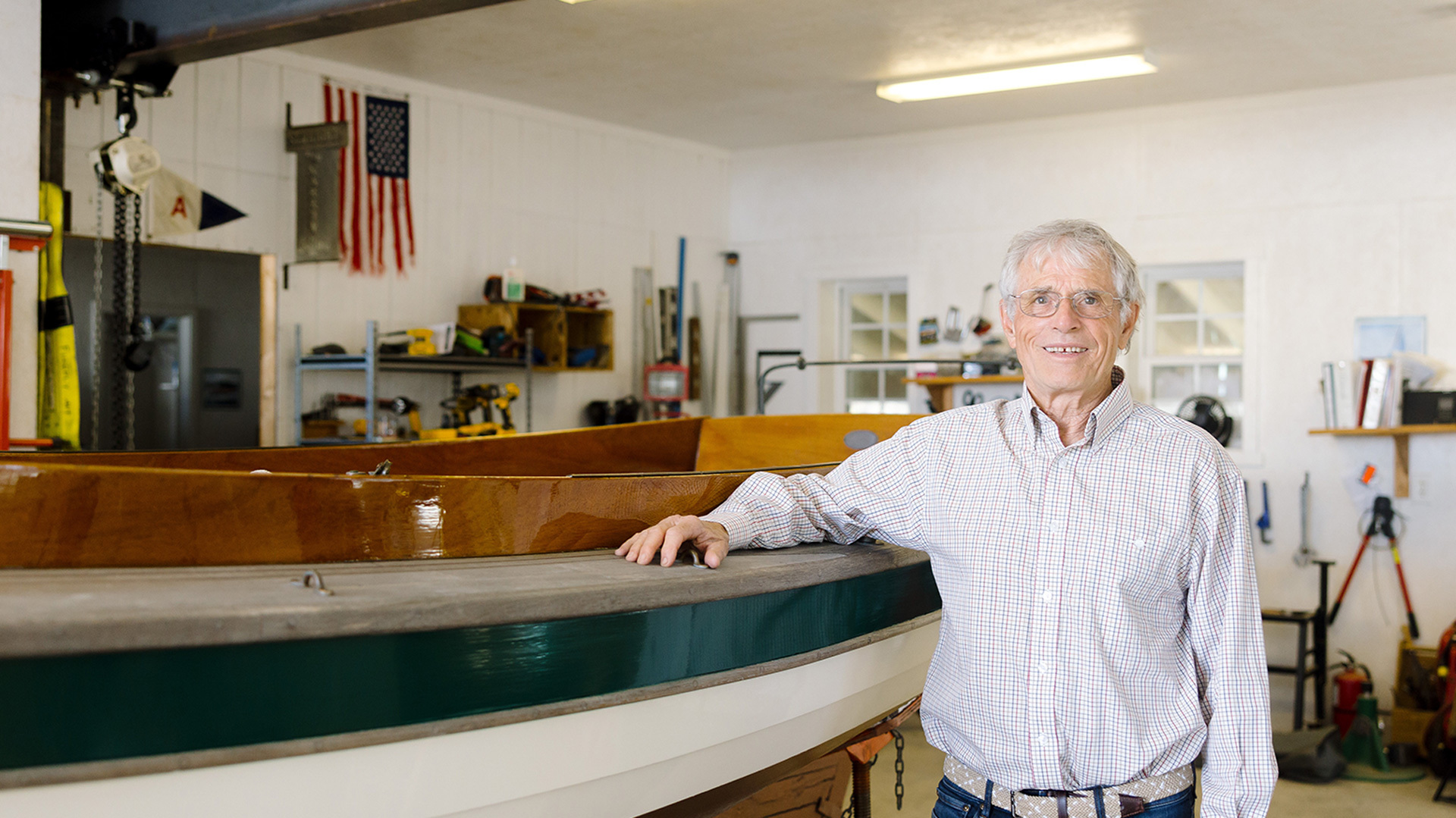 What is a boat worth? Well, that depends on the boat, of course—and the maker.
But if you've devoted your entire life to boat building and a particular vessel was built by students at the very school you founded, that boat might be quite literally priceless. And that's the case for John Burgess and his beloved boat, the Firefly.

John Burgess—PURE member since 2021 and boat builder "since forever," as he describes it—was born in Wilbraham, Massachusetts. He attended Boston University with plans to take over the family photo engraving business after graduation. But when the time came, like so many people at that stage in life, he wanted to see a bit of the world first. He started his journey at his family's summer home in Kennebunkport, Maine.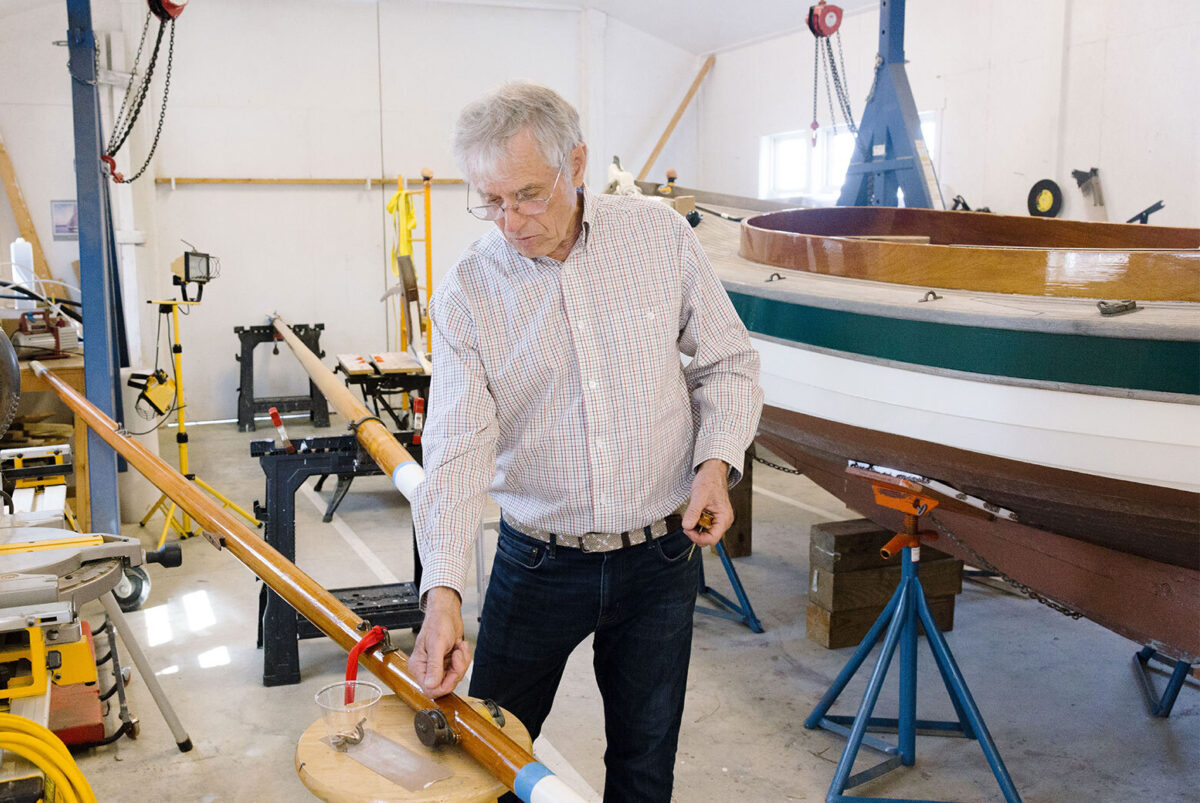 Once there, John, with a true interest in learning the art of wooden boat building, pursued a summer job at a local boatyard. John was immediately smitten with the craft. "I remember the first time I walked into the shop—I was in awe and taken by the beauty and the scents. Wood of all kinds was being sawed and steamed. It was just amazing."

John threw himself into the work. "Greek philosophers identified the balance between the mind, body and spirit. That really all came together for me in building boats; the satisfaction and level of fulfillment in making something beautiful—not just functional. I'd never experienced anything like it."
Hearing the passion in John's voice almost makes you want to take up boat building yourself. And, should you actually want to do that, John will point you in the direction of Arundel, Maine, where he, along with a close friend, founded the Landing School in 1978.
The Landing School is the nation's first fully accredited professional boat building school, training students for careers in the marine industry. The Landing School has four tracks: Wooden Boat Building, Yacht Design, Marine Systems and Composite Boat Building.
John is especially proud of the diverse people that the school attracts, from recent high school grads to aeronautical engineers and Navy Seals to international students from across the seven seas. "Their backgrounds are often diverse, but they are all united in their passion for this craft. They're champing at the bit to get to work Monday morning, because they love it."
John served as president of the Landing School for 23 years. Since retiring in 2001, he has remained active in the life of the school, but, as you might guess, he spends a lot of his time on a boat, specifically, the Firefly.
John acquired the Firefly in 2008—an Arundel 27 wooden powerboat with a fiberglass and wood/epoxy hull and a Volvo Penta 225 horsepower diesel engine. She was designed by noted naval architect Steve Dalzell and built by students at the Landing School. And she's a thing of beauty—so beautiful, total strangers have flagged John down to ask about her.
John estimates he and the Firefly have logged nearly 40,000 sea miles. They've traveled from Montreal, all the way down the East Coast and to the west coast of Florida, back up to New York Harbor, up the Hudson River to Lake Champlain. John says when you travel that many miles through all kinds of weather with a boat, what develops is not just an emotional attachment, but a synergy.
"This boat has taken care of us during a Nor'easter on the Delaware Bay when no other boats were out there. It's had water just washing over it, waves breaking on it for hours. It has really proved itself to be an amazingly seaworthy, sea kindly vessel. It's taken good care of us," John says.

So, you can imagine how he felt when he got the call that the Firefly had fallen off the trailer while being hauled to Lake George in upstate New York and was lying on the interstate. "I was in a state of shock," he says. "My boat. Oh my God."
The Firefly was taken off the highway, lifted onto a flatbed and towed to a nearby facility. John called PURE, and Member Advocate Madeline Boggess stepped in.
"My experience with Madeline was absolutely amazing," John says. "I can't tell you how encouraging and pleasant she was to work with."
The Firefly is no ordinary boat, and Madeline knew that not just any happy-go-lucky marine surveyor could understand the real nature of the claim. Working closely with John, she coordinated damage assessments not only from a specialist marine surveyor, but the boat's original designer, as well.

As a consummate boat builder himself, John was pretty choosy about who should— or even could—restore the Firefly to her original condition. There was a certain shop in Vermont he trusted. To his astonishment, PURE endorsed this choice, too. "Madeline said, 'No problem, just give us an estimate.'"
With structural and cosmetic repairs now nearing completion, and the engine reinstallation up next, John is looking forward to being reunited with the Firefly early this summer.
The rebirth of the Firefly has been an exercise in patience—a virtue John says he learned through boat building. What else has it taught him? "It's taught me to be a little bit self-effacing, to be realistic about my strengths and my weaknesses and to surround myself with really smart people." As a company built on a membership of really smart people, we couldn't agree more.
John's advice for safe sailing
"I always assume that if things go wrong at sea, it will happen at the worst time, in the worst place and in the worst conditions," says John. With that in mind, John recommends keeping vessels maintained to the highest level of structural integrity and keeping mechanical systems running like new.