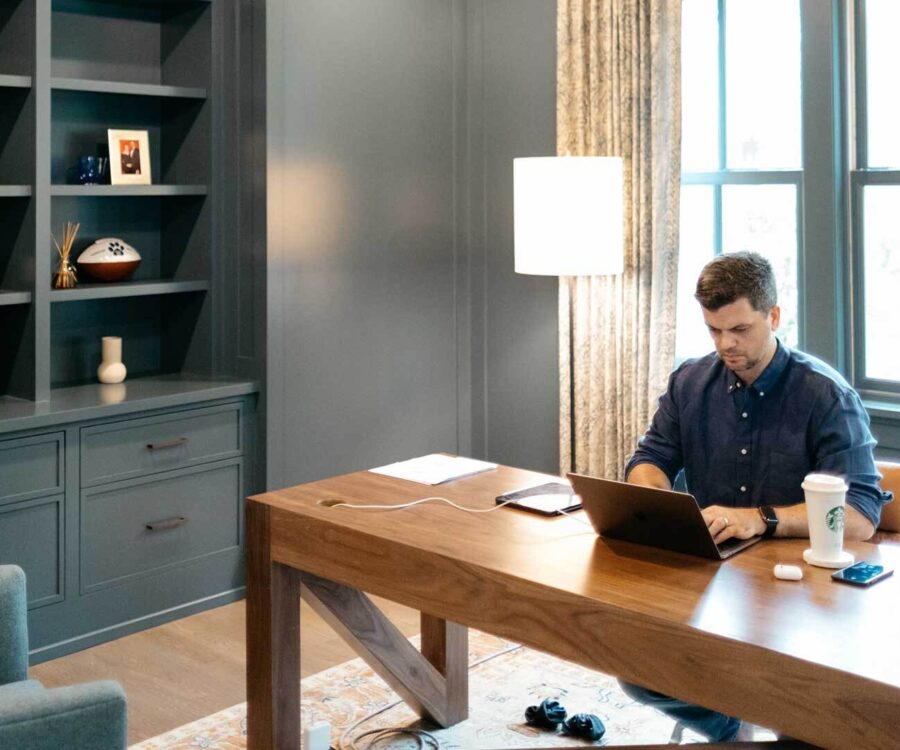 Cyber and Fraud Insurance
Fraud protection, whether online or off
Fraud and cybercrime are on the rise and high net worth individuals are at a greater risk of being targeted. PURE Starling™ is an optional endorsement to our Homeowners policy that provides coverage for losses caused by fraud and cybercrime and access to resources to help you recover if you become a victim.
Notable cyber and fraud coverage features
Customizable coverage limits
Fraud and cyber crime coverage limits of $100,000, $250,000, $500,000, $1,000,000 and $2,000,000 are available.1

Online and Offline Fraud Coverage
Our coverage helps to reimburse you for financial loss due to fraud, whether it's committed online or off. Examples include social engineering, unauthorized wire transfer or payment, forgery or alteration of checks, acceptance of counterfeit money, identity fraud and theft of cryptocurrency.

Cyber Extortion Coverage
If you are the victim of an online attack in which a cybercriminal holds your data, website, computer system, sensitive information or device hostage until you meet their demands, our cyber extortion coverage provides immediate access to advice to help you respond to the threat and, if a payment is made, reimburses you up to the limit on your policy.

Data Recovery and System Restoration Coverage
If you are the victim of a cyberattack, our fraud insurance policy helps provide coverage for the cost of a professional to reinstall damaged software, remove malicious code, reconfigure your device or system and replace electronic data that has been lost or corrupted.

Breach Notification Costs Coverage
If you are the victim of a cyber-breach, our cyber crime insurance policy may reimburse you up to the coverage limit for the cost of legal advice to determine how to deal with the breach, hiring a company to investigate the cause of and length of the breach and notifying individuals who may have been impacted.

Privacy and Security Claims Coverage
If you are the victim of a cyber-breach which gives cybercriminals access to the personal information of others, and they in turn sue you, our fraud coverage may reimburse you for defense costs up to the limit on your policy.

1. Availability of the $250,000, $500,000, $1,000,000 and $2,000,000 limits are subject to no prior fraud, cyber or breach incidents in the past 5 years. Data Recovery and Systems Restoration, as well as Breach Notification Costs sub-limits apply, regardless of the limit selected.
This is a carousel with slides. Use Next and Previous buttons to navigate, or jump to a slide with the slide pagination dots.
CLAIM SCENARIO

A fraudulent wire transfer

A PURE member discovered $240,000 had been wired from their bank account. The bank had received an email appearing to be from the member and had called the member's cell phone to validate the transaction. The criminal redirected the member's cell number to their own phone and confirmed the amount and wire instructions. PURE Starling covered the wired amount not recoverable by the bank.

CLAIM SCENARIO

A disruptive ransomware attack

A PURE member was browsing the internet when they received a pop-up window stating their computer would be locked and all files would be deleted unless a $10,000 ransom was paid within 24 hours. PURE Starling reimbursed the member for the ransom amount and the cost to remove the ransomware.

CLAIM SCENARIO

Breach of personal information

A PURE member, who was participating in a fundraising event, collected names, addresses and credit card numbers of donors on their personal iPad which was later misplaced. After notifying donors of the breach of information, the member was sued by a donor for not safeguarding their personal information. PURE Starling covered the defense costs and settlement damages awarded.
Fraud insurance service
Resources to Help You Prevent a cyber Loss
PURE CyberSafe SolutionsSM was designed to help you better understand and mitigate cyber risks. It includes a Cyber Knowledge Center, a Cyber Advice Line and a CyberSafe Fundamentals Check.
Claims Handled by Cyber Fraud Experts
Claims are reported to one of PURE's licensed in-house professionals and resolved by cyber security specialists who deliver the same high level of service for which PURE is known, from a quick and professional response to a timely and fair settlement.