Frozen Dreams: Christina & Craig Dillard
It's your anniversary and you are enjoying a kid-free getaway. News headlines mention a cold snap back home in Houston. While unexpected, you don't think too much of it.
By the next day, the cold snap has turned into a major ice storm and is wreaking havoc on your community. You take solace knowing you have a generator so your power and heat won't be disrupted. Or so you think. Until your sister calls to let you know a pipe has burst in your house.
What's worse, all of the airports in your city are closed, and it's four days before you can make it home. When you finally get home, you find your ground floor covered in water—so much more water than you could have imagined.
This is Christina and Craig Dillard's story from Winter Storm Uri, the catastrophic ice storm that paralyzed Texas in 2021.

This is a carousel with slides. Use Next and Previous buttons to navigate, or jump to a slide with the slide pagination dots.
Christina and Craig's sons play by the pool.

The secret bourbon and cigar room that Craig had built during the restoration process.

One of the entryways to the Dillard's home.
PURE members since 2015, Christina and Craig are both attorneys. They met while working on opposite sides in the same case. "And we practice the same kind of law," says Christina, "which makes people laugh. They're like, 'Oh, your arguments must be amazing.'"
Christina was born and raised in Houston. She graduated from Texas A&M and began working in fashion as a buyer. "It was a pretty cool job," she says. "But after a couple years, I was looking for something more expansive and thought law school felt right." She currently works as an in-house litigation counsel.
Craig is from Oklahoma. He knew he wanted to be a lawyer ever since he tried out for debate in high school. "It was a lot more intellectually stimulating and rewarding than anything else I had done," he says, "and when I got into law school, I felt 'this is what I was designed to do.'" Craig now leads the litigation group at an international law firm. "I absolutely love practicing law," he says.
Back at the flooded house, Christina and Craig were wading through four inches of water, trying to come to grips with what had happened. A pipe from the pressurized fire sprinkler system had frozen and burst, spraying water everywhere. The ceiling was destroyed, furniture and carpets soaked and there was standing water in every single room on the ground floor.
Despite having a generator, there was little they could have done to prevent this outcome. As temperatures across the state dropped below freezing, the demand for electricity spiked with Texans turning up the heat to stay warm. Power plants in Texas run independently from the major national grids, making it difficult to import electricity from other states. To prevent a complete collapse of the grid, power to customers was shut off—making the situation drastically worse for homeowners in a state where houses are not built to withstand extreme cold. Open pipes in the attic and ceilings of homes built with little insulation were left at risk. Insurance companies across the country, including PURE, have filed lawsuits against the organization that powers the Texas electrical grid for their actions that led to more than $5 billion in insurance claims.
For Christina and Craig, the damage caused throughout their home was a painful sight. This was their dream home. They had searched for more than a year before they found it. Its playroom was "just perfect" for their two boys, "with more than enough room for them to run around in." It had tall ceilings (described as "a must" by Craig, who is 6'4", and Christina, who is 5'10"). The only thing missing was a pool, which they promptly installed. "The view from the living room out to the pool at night with the palm trees lit up—that's what it's all about right there," says Craig. It was his favorite room in the house.
"Within 10 minutes of us getting home, our claims adjuster, Jimmy Wolterman, arrived. He said he just got into town but wanted to come by to introduce himself, see how we were doing, what we needed and how he could help.'"

First up was helping the Dillards find a place to stay that night, which was no easy task. The storm had damaged so many homes in Houston that hotels were completely booked, but Jimmy found a room.
Next was clearing out the house, but salvage companies were also completely booked. "They weren't even answering the phone," says Craig. But when Christina called a connection at a cleaning company and mentioned PURE, they said they'd be right over.
Then, Jimmy went to work finding a suitable rental home. Rentals were extremely scarce and the competition intense, but he came through, and the Dillards moved right in.
Craig recalled conversations with Jimmy where he said things like, "The house has to get fixed, but let's get the right people to do it, however long that takes." "If you guys need clothes or anything in the meantime, just let us know." And, "We are here to help."
"It was the little things like that, especially early on, that helped put us at ease," says Craig.
Christina says Jimmy's guidance was invaluable as he helped them grasp the magnitude of the loss and how long the process would take. "They had to rip the floor up and remove all of our furniture. Water had gotten into the cabinetry, so all of that had to be ripped out too," says Christina. "It was extremely comforting, for lack of a better word, during this very stressful process to not have to fight with the insurance company, but to actually have their support. It was just phenomenal."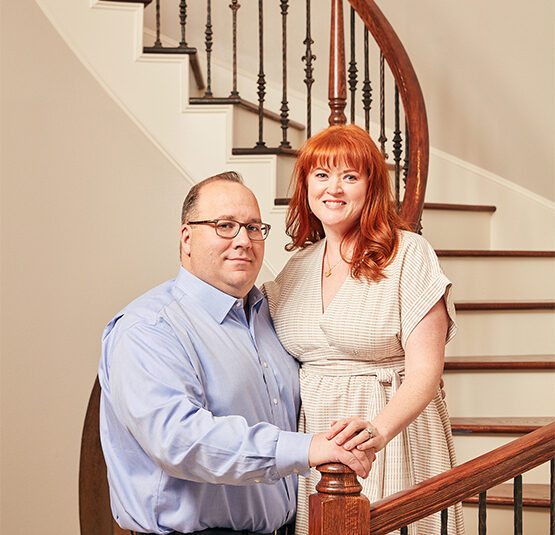 Jimmy continued to tackle the challenge of finding contractors and generally running interference during reconstruction. He found proper storage for Craig's wine and bourbon collection. He lined up PURE Art Services to store and reinstall the Dillards' artwork. And, when there were issues with the pack out company losing boxes and returning clothes that were moldy, Jimmy met with the CEO of the company to get the problem resolved.
"I have a good friend who's an insurance defense lawyer," says Craig, "and he prepared me for the worst. When I would tell him what was actually happening with PURE, he'd say, 'What? That's not what insurance companies do.' And I'd say, 'Well, that's what PURE does.'"
All in, the rebuild took almost a year. But now, the boys are running through the house again, and the living room is no longer a swimming pool—it's also no longer Craig's favorite room. During the rebuild, he worked with a designer to create a bourbon and cigar room hidden behind a secret bookcase door. "That's the new favorite," he laughs.
So what was it like to walk back in for the first time? "Amazing," says Christina. "We moved back the week of Christmas, which normally I would complain about. I was just so glad to be back in our home. It felt like we could all finally exhale.''