Ready for the Next Storm: Mike & Terry Caccavale
Mike and Terry Caccavale's elegant Cape Cod home is stronger than ever. It has a new roof, which includes a waterproof underlayment to prevent future ice and water damage; 73 new low-e windows that filter out harmful ultraviolet rays, preventing fading to their rugs, furniture, art and other valuables; and all new cedar shingles that are covered by a protective seal to improve the durability of the wood. The next time the power goes out, a back-up generator will kick on automatically to maintain power to the important systems in their home. That's what happens when an innovative businessman and a talented architect assess their vulnerabilities and take decisive action after their home suffers damage in one of the worst winter storms in recent Massachusetts history.
"We had always talked about taking steps to make our home more resilient, but when you're not in the moments of a loss, you reason that you'll get to it later," said Mike. "So, as we made repairs to our home after the storm, we took it as an opportunity to make important upgrades that will better prepare us in the future."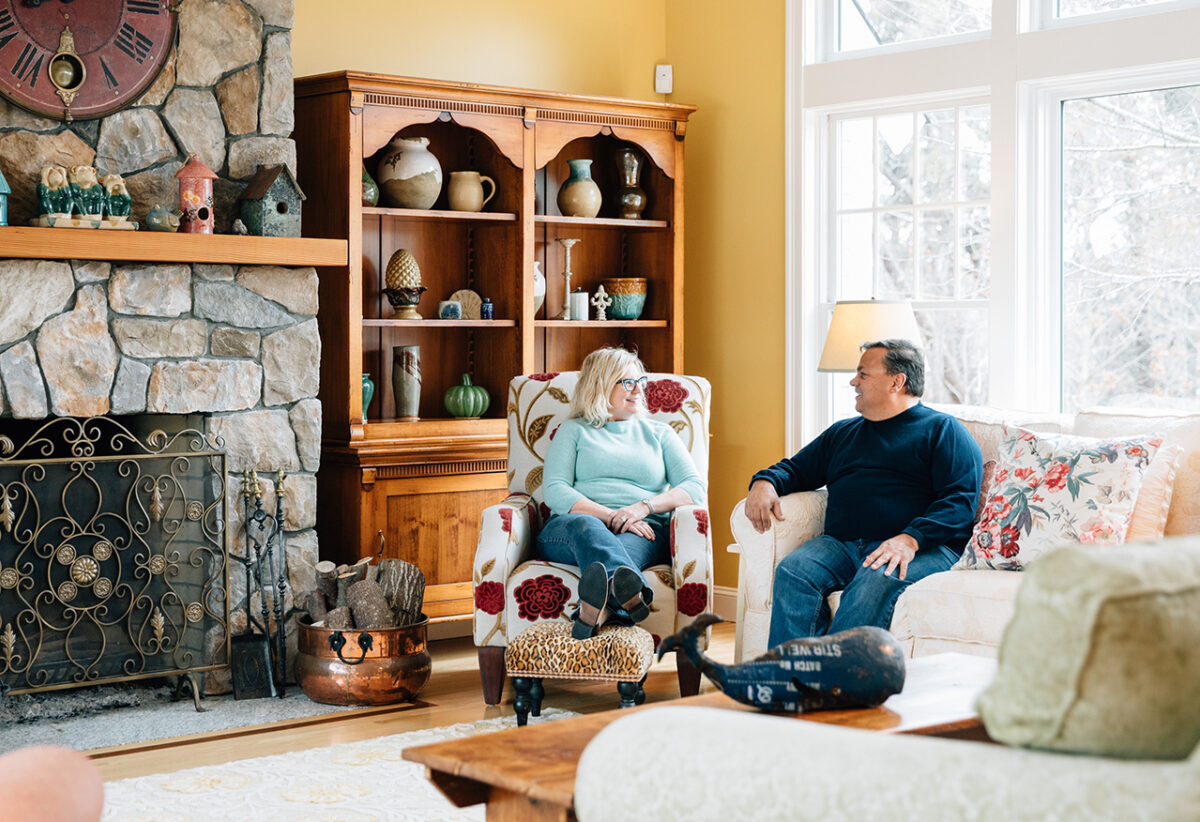 The Caccavales were on vacation last March as they followed the news of winter storm Riley, a destructive nor'easter and "bomb cyclone" that brought rain, heavy snow and hurricane-force winds to the East Coast and knocked out the power to millions of homeowners along the way. In its path was their beach home in Chatham, Massachusetts.
Their neighbor kept them well-informed as the storm blew through and ultimately knocked down several large trees across their driveway, completely destroying the fence that surrounded their pool and tearing hundreds of roof and side shingles off the home.
Missing roof shingles allowed rain to seep in, damaging the ceiling and walls below. Making matters worse, just as that storm began to subside, reports emerged that another significant storm could impact Chatham later that week.
Winter storm Riley caused a great deal of destruction over a widespread area. As is typically the case when many people are impacted in a single event, resources are in high demand and often difficult to obtain.
"With another storm approaching, we were very concerned about the condition of the roof and what that might mean for the rest of the house," said Mike. "But PURE had a contractor at our house the same day, who sealed off the roof to prevent any additional water intrusion. That put us at ease as we struggled unsuccessfully to book ourselves on an early flight back."
This is a carousel with slides. Use Next and Previous buttons to navigate, or jump to a slide with the slide pagination dots.
The PURE membership is made up of a select group of responsible individuals who are dedicated to doing the right thing. So, as the Caccavales began to think about the repairs, they decided they had put off fortifying their home long enough. Ryan Begley, PURE's claims professional, helped them identify measures they could take that would help reduce their chances of suffering a loss in the future, and Hannah Hague, their PURE Member Advocate®, helped with scheduling and implementing the repairs.

Following an eligible loss, PURE will contribute up to $2,500 towards members' loss prevention efforts that are intended to prevent a loss from recurring.1 In addition to putting this money towards making their home stronger, the Caccavales invested in ways to address risks that were unrelated to their claim.

"Although we hope it never happens again, we feel confident our home is ready for the next storm or whatever Mother Nature or chance brings," said Mike. "The experience with PURE was far beyond what we expected. I cannot recall another company that has even come close to delivering this level of service."

For additional advice on making your home more resilient to high-velocity winds and other significant weather events, download our Guide to Building a More Resilient Home at pureins.co/resilient-home.
1If you experience a Homeowners loss greater than $10,000, you qualify for PURE's Loss Prevention Benefit, which provides up to $2,500 you can use towards preventing a similar loss from recurring.