Ross Buchmueller
Founding CEO and Senior Advisor
May 22, 2023
---
My fellow PURE members,

2022 saw your insurance company perform well in the face of an increasingly difficult environment. We built on our already-strong foundation and made progress towards reaching our long-term potential.
Overall, we were not good enough to overcome major hurricanes, extreme winter freezing, inflation and other headwinds. In our 2022 Report to Members, we will attempt to not just explain these challenges but also lay out tangible steps we can all take to mitigate or overcome them in 2023 and beyond.
Nearly 17 years ago, we laid out a plan wherein PURE could help its policyholders do together what would be difficult for them to do on their own—efficiently transfer risk for the mutual benefit of all parties. The sense of community and the alignment of interests are more important today than ever.
During this past year, we saw a meaningful increase in the renewal retention of our membership, with nearly 95% of members electing to stay with PURE. The small amount of "lost business" includes those members we did not offer an option to renew.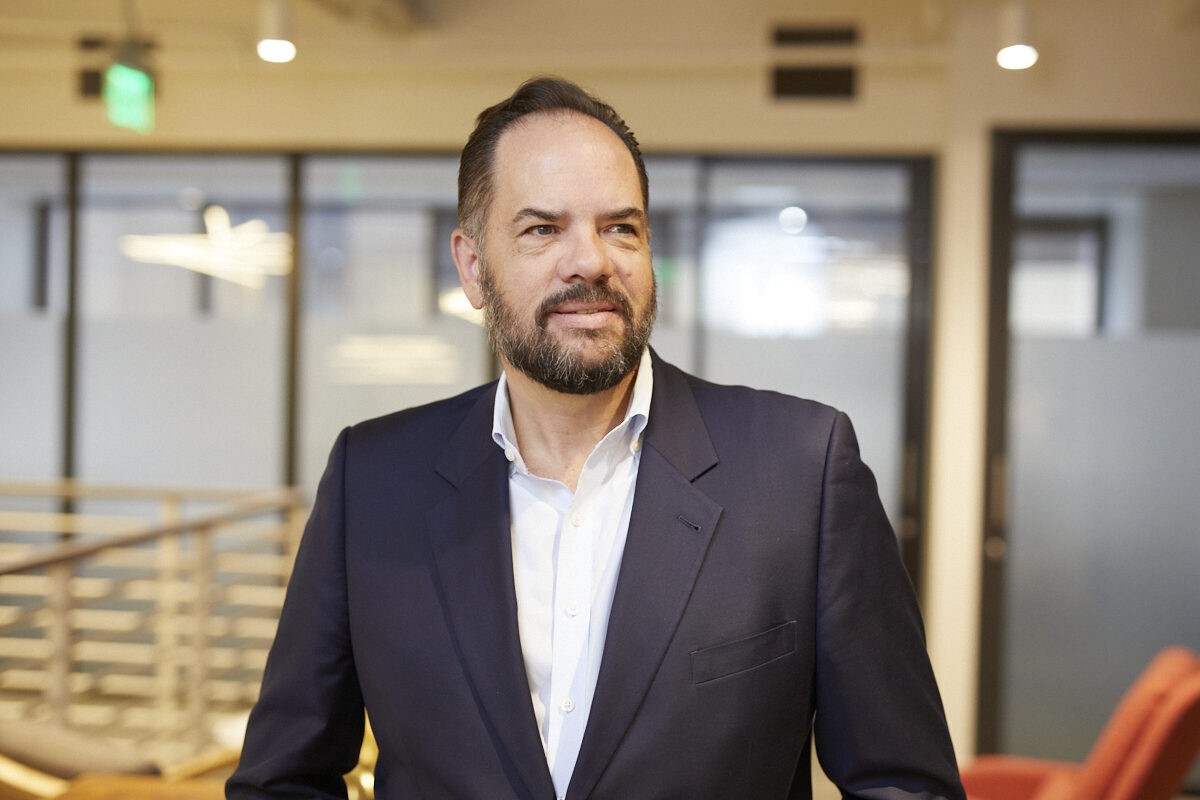 If you were to draw from a political analogy, I am not sure we benefited as much from a referendum in favor of PURE, as our competitors dramatically pulled back, and we were most clearly the best choice.
We are committed to improving the service and solutions we offer, so that we can earn your trust and loyalty. Once again, in 2022, we stood out from the pack with direct written premiums up 17% and important recognition earned as the Best High Net Worth Insurance Company at both the Family Wealth Report awards (eight years in a row) and Private Asset Management awards (six years in a row). We are honored to be recognized as the "best," and we aspire to be known as your "favorite."

Our competitive position has never been stronger, but the well-publicized struggles of both established competitors and newer entrants offer us an important reminder of the difficulties inherent in this business. PURE and its membership were not immune to the treacherous conditions as we saw monies spent on claims and expenses outpace monies collected from premiums for the second straight year.
We have the financial strength and flexibility to absorb years like these, but it's not a recipe for sustainable excellence. As we described last year, we will focus on improving service while returning to underwriting profitability in 2023.

Extreme weather continues to wreak havoc on our members, their property and their communities.
Hurricane Ian made landfall in Southwest Florida with a wind force that approached Category 5. In the days leading up to landfall, the "cone of uncertainty" showed a path likely to fall between Tampa Bay all the way to the Region to the north and west. However, the storm ultimately took a sharp turn and aimed at the communities of Fort Myers and Naples. With an extreme storm surge and a somewhat shortened notice to execute hurricane plans, our members suffered more losses to flooded cars than we might have normally anticipated.
Around Christmas Day, as temperatures across the country dropped suddenly and severely, our membership suffered burst pipe losses that were similar in scope and cost to a major hurricane. In a single day, burst pipe claims were reported in more than 20 states, led by claims in Georgia.
These two events provided stark reminders about the importance of hurricane evacuation plans; flood venting in garages; smart home technologies, including temperature monitoring devices and water shut-off equipment; and even the potential benefits of anti-freeze in sprinkler systems. We hope this report will serve as a useful set of reminders that equip the PURE membership to be even more prepared the next time similar events occur. And they surely will happen again.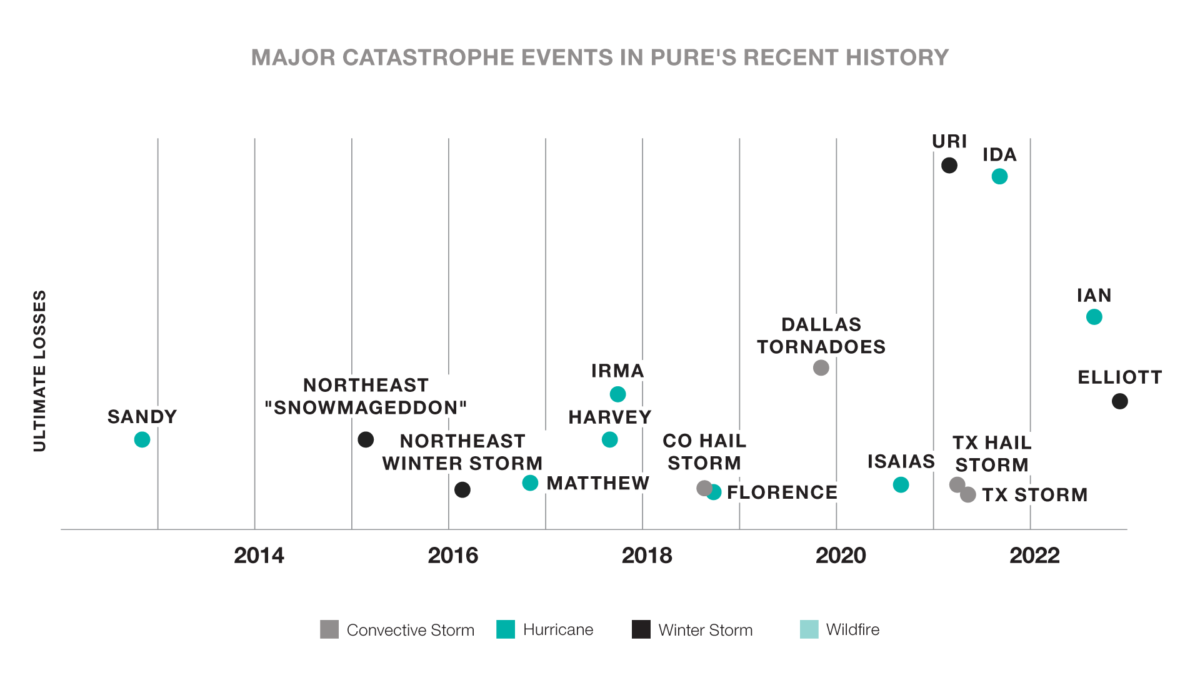 We have deep respect for our reinsurance partners who provide important capital that allows us to confidently and cost-effectively take risk. Our partners assume important risks for PURE and represent a vital part of our capital and risk strategies. We are proud that we have produced consistent profits for our reinsurers. This industry, especially reinsurance for catastrophic damage to property, is going through a sharp transformation.
One leading reinsurer simplified its strategy in three words: "double, double, half." The company wanted to see primary insurers, like PURE, double the amount of risk they assume before ceding it off. They wanted to double the premium they charge and they intended to cut in half the amount of expense offsets they offer, known as "ceding commissions." For a group that calls itself the "shock absorber" of the industry, the tightening of the reinsurance markets has certainly offered quite a few shocks.

We believe it is our obligation to fully understand, accurately price and proactively manage risk—and not just to react to the reinsurers. However, there are a number of factors that justify some portions of this extreme market movement. As interest rates have spiked, a reinsurer can now get a higher return on cash in a savings account than they used to charge us for hundreds of millions of dollars of coverage. If their view of the cost of risk were unchanged, they would still likely need to increase rates to reflect the cost of capital.
Unfortunately, the view of risk is only getting worse. The frequency and cost of severe events keeps getting worse and worse, but the nature of the events facing reinsurers has added a tremendous amount of uncertainty (war in Ukraine, COVID, winter freezing). In the face of a higher cost of capital, more severe weather and greater uncertainty, it is reasonable for us to envision that the availability and affordability of reinsurance will be a factor in our plans for a number of years.

Our team has worked hard to battle inflation over the past several quarters. By indexing an increased inflation factor against insured values, we are trying to ensure your coverage limits keep pace with increased claims costs.
We also need to work with individual members whose coverage limits look like outliers with values well below what we see in typical claims costs. We are tackling this from all angles by offering even more in-home inspection services (PURE360®) to better document and value unique features of a home and working with an elite group of restoration contractors to control the cost of repairs.
Despite our efforts, you can see the impact of inflation. In fact, the automobile insurance industry has seen even greater pain from all aspects of the product, from repair costs to legal risks to medical expenses. Once again, we are not immune from these headwinds.

17 years of serving the PURE membership

95 percent of members elect to stay with PURE

8 consecutive years named Best High Net Worth Insurance Company by Family Wealth Report
As if the risks and liabilities we faced in 2022 weren't bad enough, the asset side of our balance sheet faced a nearly unprecedented market. PURE invests more than $1 billion to benefit the membership and to strengthen our claims-paying ability. The bulk of our investment activity is in high-quality, fixed-income with reasonably short durations.
The bad news is that almost all asset classes struggled in 2022, even our conservative portfolio. The good news is that the new monies invested are benefiting from significantly higher yields. We are optimistic that our investments will contribute to an increase in member capital in 2023. Investment losses are yet another contributing factor to the reinsurance tightening.
Since our founding, we have been conscious of curating an optimal diversification of risks. Not surprisingly, Florida, California, Texas and New York are our four biggest states and largely represent our greatest concern for aggregation of risk. For our first 15 years, we believed that the cost of protecting PURE against massive disasters in these areas was a reasonable value. We paid an extra premium for reinsurers to assume that volatility, but it worked for us.
The significant increase in reinsurance costs means that it may no longer be cost effective for PURE to include as many members as we do in some of those areas. Improving our overall profitability gives us more margin for error to assume risks or pay for reinsurance, but as we see the current conditions as closer to permanent, we will be reducing risks in some of these areas.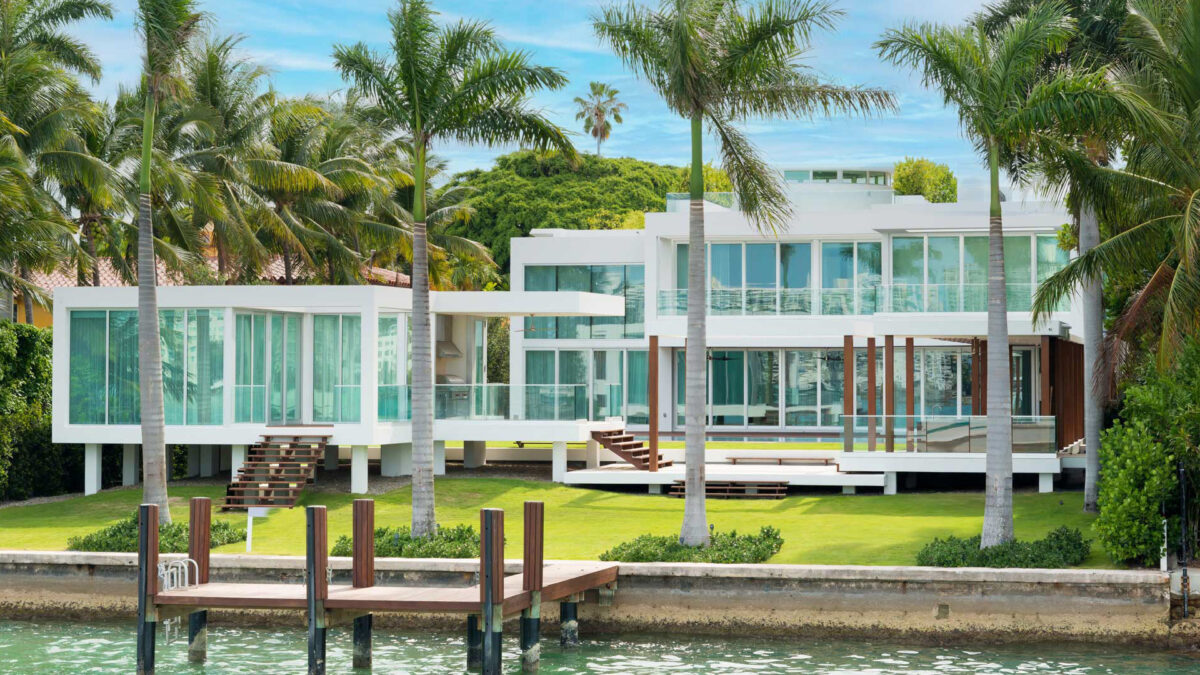 PURE was designed as a superior platform for superior risks, often described as for the most responsible owners of the finest built homes. For the past six years, through PURE Programs, we worked with third-party insurers to create solutions for PURE members whose insurance needs included exposures to much higher risk. We would manage these risks on a non-admitted basis that is less regulated and allows an insurer to charge a higher premium that reflects the increased exposure.
As the regulated insurance markets tightened, these non-admitted solutions became more favorable. In fact, some of our competitors decided over the past year that they would only offer coverage in certain states if they could do it in an unregulated fashion that allowed them to find the highest rate. As the demand for this coverage increased, the supply of interested capital did not. We have found it harder and harder to convince insurers to provide meaningful capacity to let us solve problems.
To create greater stability for these solutions, we formed and capitalized PURE Specialty Exchange, a new reciprocal insurer intended to serve the higher-risk needs of PURE members. While there will be limits to our capacity, this new initiative should allow us to answer more challenges for coastal risks, wildfire risks and homes under construction.

We are also excited to launch new capabilities in Canada in the near future.
We earned a license for PURE to operate a Canadian branch and started assembling a great team. This will create more diversification and an opportunity for us to provide complete solutions for hundreds of Canadian PURE members who rely on us to protect them in the U.S.
Our team continues to invest in reducing friction throughout the process. If you have not downloaded the PURE Insurance mobile app yet, please do. The most common use is for accessing auto insurance ID cards, but it offers many other tools and features.
We added more risk features to PURE Home Spotlight® that can help with home-buying decisions and accelerated the usage of PURE Art Spotlight™ to give greater confidence to art collectors. We will continue to invest in ways that make you smarter about risk and find it easier to navigate insurance matters.
I want to take the opportunity to recognize the talents and hard work of the more than 1,000 colleagues who take such pride in serving you and your chosen independent insurance brokers. It is a remarkable group who deserve all of the credit for the awards and accolades. No recognition is more important than the trust that you place in PURE. Thank you for your membership and best wishes for a safe and healthy 2023.
ROSS BUCHMUELLER
Chief Executive Officer