Family Heirlooms Restored: Perri Harcourt
Perri Harcourt's impeccable 1911-built Mediterranean-style home is filled with fixtures, furnishings and objects that are as remarkable as the home itself: ornate wood pillars covered in gold leaf that were crafted in the 16th century for a church in the Pyrenees and a beautiful hand-carved wood door that had been salvaged from a sunken German ship and restored specifically for the home. These are just two examples. But perhaps none are more remarkable than a collection of books that has been in her family for generations. Some are legacies passed down from her late husband's grandfather and his days as a prominent publisher. Others are heirlooms from even older generations—dating as far back as the 1600s—including hand-written journals documenting the family's genealogy and a Bible that had been carried over on the Mayflower.
This is a carousel with slides. Use Next and Previous buttons to navigate, or jump to a slide with the slide pagination dots.
All these cherished belongings were in jeopardy when a fire broke out just days before Christmas in 2016. The flames were contained to the living room, the same room where the heirloom books were kept in a hardwood chest. "The condition of the chest being what it was, I just assumed the books were destroyed," said Perri. "I felt emotional over the whole situation, but the thought of losing these irreplaceable pieces of our family history was just devastating."

The rest of the 10,000-square-foot home suffered considerable smoke damage, which Perri described as "an oily tar coating every surface." The smoke was so pervasive, it had also become trapped in the wall cavities, primarily due to the way and the era in which the home had been constructed.
When one of our members suffers a loss, it often takes the most talented craftsmen, artisans and engineers to restore their exceptional homes and the amazing, rare and often one-of-a-kind objects they keep. In Perri's case, a team of specialized smoke remediation engineers safely and completely removed all of the effects of the smoke without needing to gut the home; local art conservators restored the pillars, door and other unique fixtures; and an expert book curator removed all traces of smoke from the books and restored the burned bindings and leather book jackets.
Perri's loss was handled by PURE's claims professional, Andy Brotherton, who managed the reconstruction of her home, and Brandiss Payne, PURE Member Advocate®, who offered her support and took on the administrative tasks associated with the claim.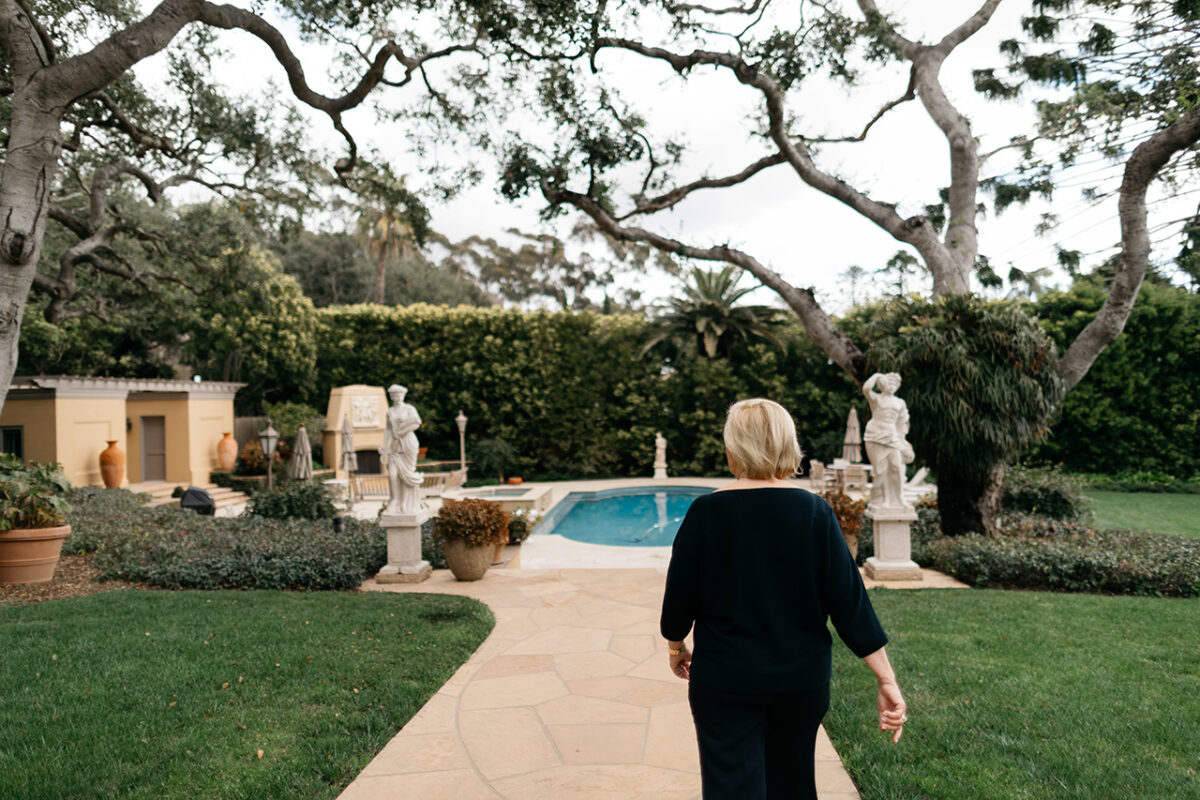 "I could not have imagined that level of support existed," said Perri. "They are miracle workers and helped me navigate a very upsetting experience with patience, empathy and understanding."
"The unique features in Perri's home made it truly extraordinary, and I could sense just how distressed she was at the prospect of losing some of her most cherished belongings," said Andy. "Yet, she displayed resilience throughout the entire process, and I'm pleased she's back to life as usual and enjoying her home in its original condition now that repairs are complete."
Innovative Solutions To Help Our Members Recover More Quickly
After a fire, the off-putting odor that lingers behind indicates the presence of a variety of harmful substances. Not too long ago, the only solution to remedy this issue was to fully gut the home or the impacted portion of it. Today, new solutions exist that are far less invasive, helping us improve the claims experience for our membership. Among them is BIOSWEEP®, which utilizes an oxidation process to break down the contaminants, allowing them to be easily cleaned away.* This process helped Perri and many other PURE members return home more quickly after a fire.

*The above example does not constitute or imply an endorsement or recommendation. Members should conduct their own assessment of all vendors, products and services as appropriate for their needs.