Reflections: Natasha Trethewey & Brett Gadsden
On a cold Thanksgiving morning in 2017, Natasha Trethewey and Brett Gadsden stood on their lawn watching their house burn.
Inside were books, handwritten manuscripts, a Pulitzer prize, photographs, and the library and papers belonging to Natasha's father. Natasha is a poet whose work often deals with remembrance and Brett is a historian. So in a sense, it wasn't just their home, but their life's work that was burning.
Natasha Trethewey is a Pulitzer Prize-winning poet, author of the best-selling memoir "Memorial Drive" and Board of Trustees Professor of English at Northwestern University. She was also Poet Laureate of the United States in 2012 and 2013. Her job was "to bring poetry back to the people, where it belongs," she says. She believes poetry is the only language that can express our deepest emotions.
"There is no other form that can hold the depths of the feeling of grief, but also of celebration, the birth of a child or a wedding," she says. "A poem is an elegant envelope of form in which to say what absolutely has to be said." For Natasha, a poem can be the way to hold on to a moment, to examine and feel it—almost like a photograph.
Much of her work is drawn from her own childhood in Mississippi and the painful public history of that part of the South. She believes, "only when we tell the truth about our shared history as Americans can we begin to heal the wounds of the past."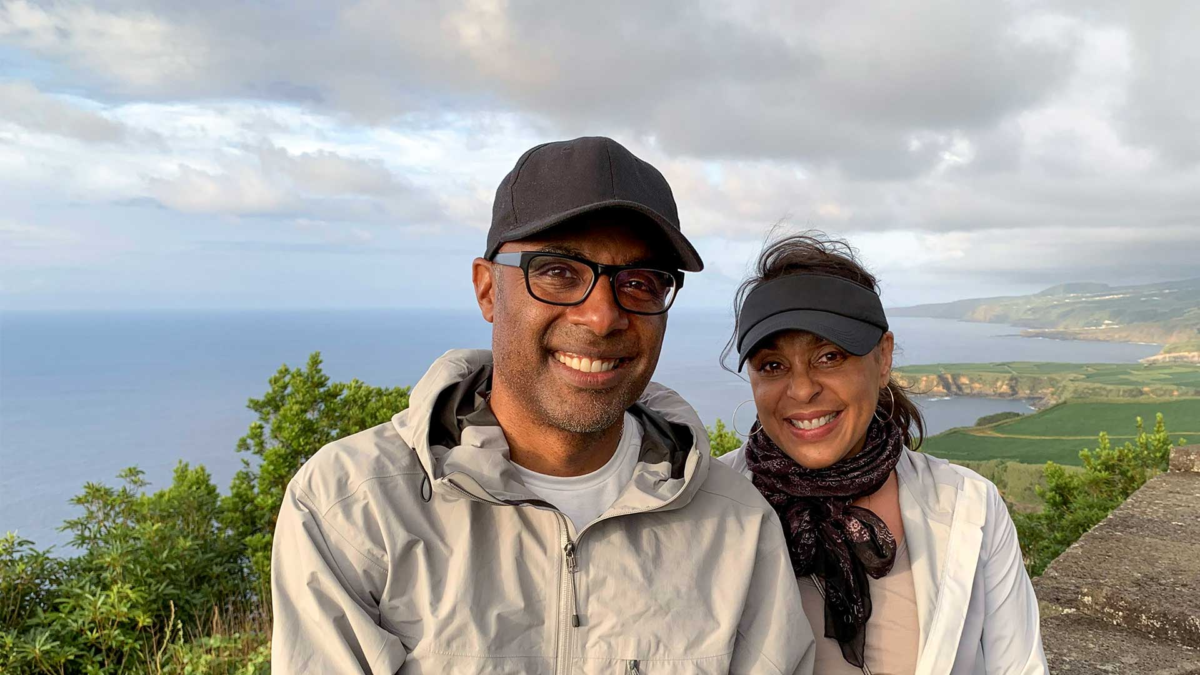 Brett Gadsden, Natasha's husband, also likes to take a good, contemplative look at the past, but maybe not for the reasons you might expect from a history professor. "History is about stories and there's always another story, always something else to be told."
Brett sees history as a series of links to the present, a collection of stories that explain how we got here. "Everything that happens exists along a continuum and needs to be understood in a larger context," he says. "A sophisticated understanding of our past helps us develop an awareness of the complexities of our present."
Brett is currently working on a book about a group of prominent African Americans who held significant cabinet- level positions in presidential administrations in the 1960s and 70s. The book examines how this group made the transition from Washington outsiders to White House insiders. "In many ways, these are the political ancestors of Barack Obama and Kamala Harris," he says.
This is a carousel with slides. Use Next and Previous buttons to navigate, or jump to a slide with the slide pagination dots.
Brett was upstairs getting ready on Thanksgiving morning when the fire broke out. He ran downstairs to the kitchen where Natasha, his parents, brother, sister-in-law and nephew were making breakfast. "I just spread my arms wide and said, 'Everybody, out of the house.'"
The firefighters arrived quickly and were able to stop the blaze just as it reached the third floor. They saved the roof and frame, but unfortunately, the interior was completely destroyed, along with most of the family's personal possessions, furniture and clothes.
"I just remember standing there, looking at the house and thinking, 'What are we going to do?'" His father told him to call his insurance company. Brett and Natasha had joined PURE a few months earlier and within minutes, their claims adjuster, Ken Beltran, was on the scene.
"Things just suddenly started to get done," says Brett. Ken helped Brett and Natasha through the difficulty of those first few days, outlining for them the steps to recovery and restoration. "It was just this swirl of information and it was all-consuming. But Ken was great because he was absolutely clear. He methodically walked us through the process to help us understand what had to happen."

Over the course of the next several months, PURE Member Advocate® Joan Smith stepped in to help Brett and Natasha navigate the complexities of rebuilding and getting back to normal, lining up temporary living accommodations and furniture, managing contractors and schedules, continually driving the process forward and even turning up unexpectedly with replacement computers and other odds and ends. But it was the moral support that she offered that made the most difference. "She was always a shoulder to lean on," says Brett.
"Who'd have thought these people from your insurance company would come into your life, that you would be sitting at a lovely restaurant having dinner with them? Who experiences that in their lives? No one ever does."

Joan also drew on the PURE community, connecting Brett and Natasha with another couple in Chicago who suffered a house fire, Tom Stringer and Scott Waller—members since 2014. The couple had just renovated their meticulously designed brownstone when a fire nearly destroyed it just before Christmas in 2016. Brett says talking to other members who'd been through something similar was invaluable.
"Having been in our shoes, they helped us understand what the path ahead looked like and what we needed to think about and to ask. They invited us into their newly restored home and for the first time I thought 'Okay, things are finally coming into focus,'" says Brett. "I finally felt confident that we were going to get back to a good place."
In November 2019, nearly two years after the fire, the work on their home was finally complete. Looking back on the experience, Brett and Natasha agree that it brought their family closer together. "It sounds funny to say that it was nice to have Brett's family here, to go through such a traumatic event together like that, but it really was. It meant that we were not alone."
She says the experience also reminded her of her own capacity to find joy even in pain and loss. "Trauma is from the Greek word for wound," she says, "and the poet Rumi wrote, 'The wound is the place the light enters you.'"