Eight years ago, ready to begin a new chapter in her life, Nina Mehta settled into her new home in Santa Rosa, California. She loved the home for its 360-degree views. It was also located near her office, NeilMed Pharmaceuticals, of which she is President and Co-Owner. Her home, like those of many of our members, was an extension of her identity, filled with sentimental objects from different phases in her life.
The Tubbs Fire started around 10PM on October 8, just a few miles away from Nina's home. Like so many area residents, Nina went to bed that night unaware of the impending threat; hours later, she was awoken by the sound of her dog barking, the smell of smoke and a police officer at her door instructing her to evacuate immediately. With only the clothes on her back, she took her dog and fled.
The next morning, she learned that virtually every home in her neighborhood and the surrounding area, including hers, had been burned to the ground. Photographs, her jewelry collection and many other items of high sentimental value were completely destroyed.
Nina did have a safe in which she kept many valuable pieces of jewelry. The safe was recovered, but the jewelry she wore every day, including a particularly cherished and high-value ring, had been left out on her dresser that evening. Nina was certain the pieces were gone.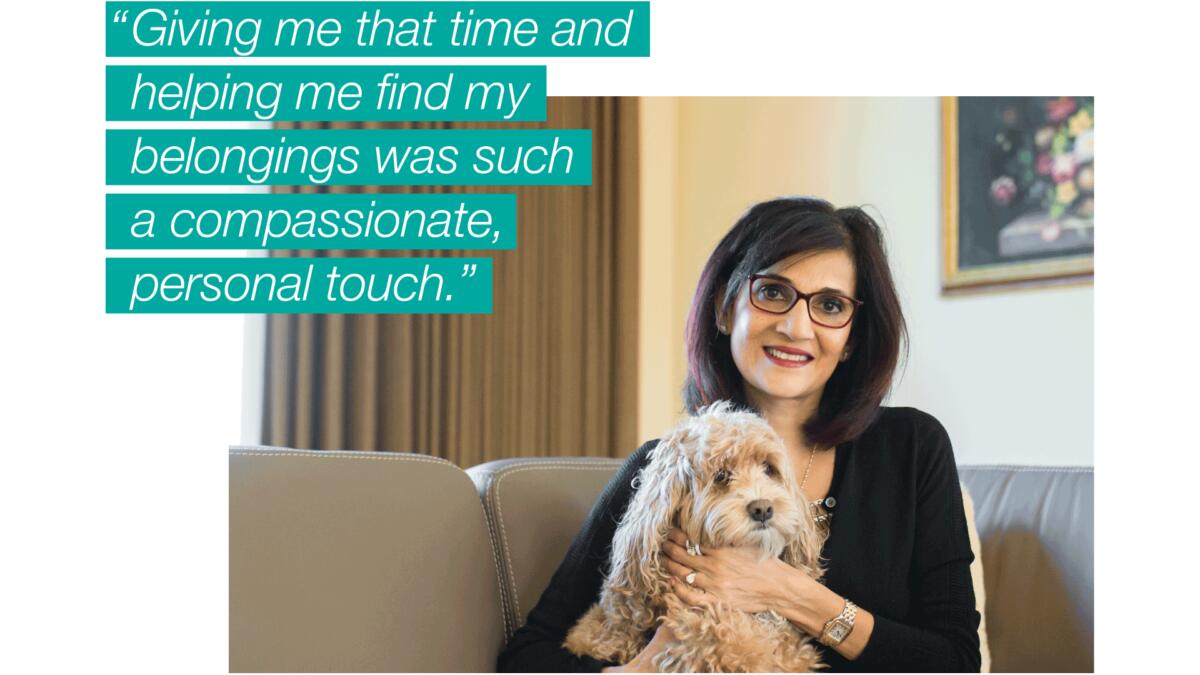 PURE Claims Adjuster Andy Brotherton met Nina at her property to survey the damage. "Following devastating events like this, I always try to get of sense of whether there are items that seem to hold more meaning for the member. For Nina, it was her jewelry," said Andy.
As Nina took in the sight of her home, Andy began sifting through the rubble. After nearly an hour, he found a bracelet. It was not one of the more sentimental pieces, but the discovery did help to direct his search. He called in a crew to help sift through the ashes in search of more. The team found some of Nina's jewelry, including the cherished ring and some earrings, along with two Ganesh statues, which were sent to be restored to their original condition.
"I was, and continue to be, overwhelmed by the loss—the loss of my home and everything I had to leave behind. Rather than question me or give me a list of next steps, Andy let me come to terms with it all while he went off to dig through the damage. To do that for me, giving me that time and helping me find my belongings, was such a compassionate, personal touch," said Nina.

With her home completely destroyed, Nina was faced with the decision of whether or not to rebuild. PURE's Homeowners policy provides members in situations like this with options and flexibility. Realizing that this was a decision Nina was not immediately prepared to make, PURE issued payment so that when she was ready to decide, she had the financial flexibility to do so.
Visit pureins.co/andy to read more about Andy's efforts in the Insurance Business America article, "Heroic Adjuster Digs Through Wildfire-Devastated Home to Recover Precious Jewelry."