Two Milestones Reflect A Strong Year For PURE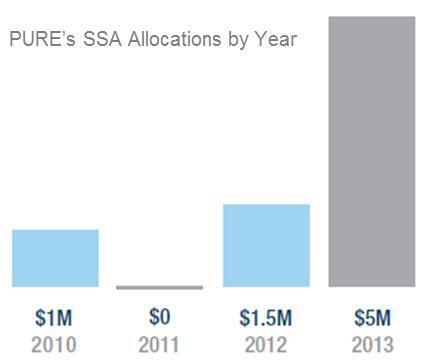 White Plains, New York – May 9, 2014 – Privilege Underwriters Reciprocal Exchange (PURE), the policyholder-owned property/casualty insurer designed for high net worth individuals and families, today announced that $5,000,000 of policyholder surplus has been allocated to the PURE membership in the form of Subscriber Savings Accounts (SSAs).
This is PURE's third and largest SSA allocation.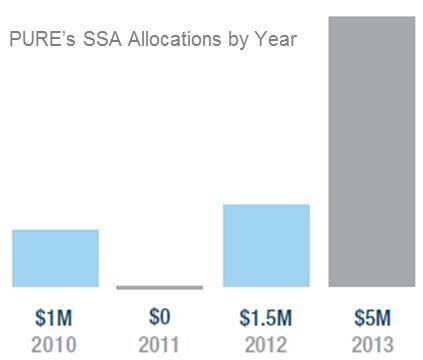 SSAs are a tangible demonstration of the alignment of interests between PURE and its membership. They are also an important component of PURE's long-term capital management strategy and contribute to highly competitive premiums for the membership. For more information, visit pureinsurance.com/ssa.
Also reflecting on the capitalization, operating leverage, reinsurance and operating performance of PURE, A.M. Best Company (A.M. Best) has again affirmed the Financial Strength Rating (FSR) of "A-" (Excellent) for Privilege Underwriters Reciprocal Exchange (PURE) and the PURE Group of Insurance Companies. The rating was accompanied by a "Stable" outlook.
According to A.M. Best, "PURE has experienced strong direct results through its first seven years of operations, with minimal impact from Northeast events such as Irene and Sandy. The group's management has extensive experience with favorable operating results associated with starting and managing similar niche books of business with other carriers."
"2013 was a great year for the PURE Group on many fronts, including statutory surplus growth of nearly 70%, asset growth over 50%, and strong profitable premium growth within PURE," said Ross Buchmueller, president and chief executive officer, "I'm pleased that more than 25,000 PURE members will participate in our largest SSA allocation yet, and that our approach to build a lasting, well-diversified business has earned the continued confidence of A.M. Best."
Additional information about PURE's operational performance is found in the 2013 Report to Members.
About PURE
Privilege Underwriters Reciprocal Exchange (PURE) is a policyholder-owned insurer dedicated to creating an exceptional experience for responsible high net worth individuals and families. PURE provides best-in-class, customizable coverage throughout most of the U.S for high-value homes, automobiles, jewelry, art, personal liability, watercraft and flood. Inspired by some of the finest policyholder-owned companies in the world, PURE emphasizes alignment of interests and transparency. PURE's low cost of capital, careful member selection, and proactive risk management all contribute to highly competitive rates. As a member of The PURE Group, PURE is rated A- "Excellent" for Financial Strength by A.M. Best. In return for a fee, PURE Risk Management, LLC acts as Attorney-in-Fact for PURE. For more information or to find a local agent, visit pureinsurance.com.
###
Editor's Notes:
Interviews with PURE's executives, agents and members may be coordinated upon request.
Copies of the A.M Best Company report are available.
This material is descriptive only. The precise coverage offered is subject to the terms and conditions of the policies issued. The rights and responsibilities of members are subject to the Subscriber's Agreement and Power of Attorney. Coverage may not be available in all jurisdictions.